St. Peter's PTFA
A warm welcome to St. Peter's PTFA
The PTFA work alongside the teaching staff and the children of St Peter's and communicate with the school council via termly meetings to find out what we can do to help our wonderful village school! We work together by raising money and coming up with new event ideas and projects. 
We have raised funds by racing ducks down the river, Easter Egg hunts, Bingo & Bake nights, Quiz Nights and wearing fancy socks. Children have laughed and danced at our disco's and have attended our Christmas movie nights. 
We're also proud of, and grateful to, the generous local business community who support us with donations and offer hands to help at events. Hixon really does have a vibrant and wonderful community that realises the school is at the centre of village life!
Watch out for a bumper schedule in 2021/22 as restriction ease and allow us to host many of the events the children and their families have missed so much! All details will be on the weekly newsletter.
Helping our Children Thrive
Last year, the support and funds we received enabled us to support the curriculum at school by purchasing, fun maths & science resources and a new reading scheme for key stage 2.
The PTFA also support some travel costs when our children go on trips, Golden Time rewards, which encourages good behaviour day-to-day, and the association also sponsors the End of Term Golden Time craft activities. 
Our next exciting project is to fund a MUGA – Multi Use Games Arena which will encourage the children to play outdoors, keep fit and stay healthy!
More info on our progress with the MUGA fundraising can be found below.
Current Project – Multi-Use Games Arena (MUGA)
During the Summer holidays in 2021, St Peter's are installing a MUGA which will be a fantastic area for children to play, learn and sharpen up their sports skills.
The PTFA have been raising money all year for this and have made fantastic progress raising £15,569. Our overall target to fully fund the MUGA installation is £25,849, so we still have some way to go.
Fundraising thermometer:
Provided by CoolFundraisingIdeas.net
Thank you to all the businesses who've donated to this wonderful project that will help keep our children (and the community) fit, active and playing sports! This really wouldn't have been possible without your support.
If you're a local business and would like to support an active future for the children of St Peter's, then we'd love to hear from you st.petersptfa.hixon@gmail.com.
A big thank you to everyone who has donated so far from the local business community!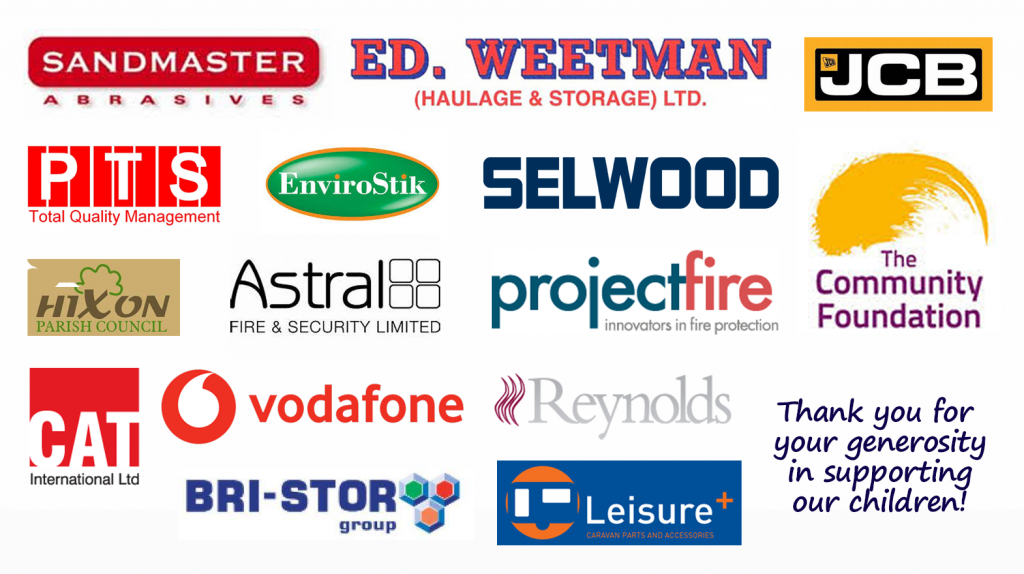 Join the Team
If you'd like to be part of the PTFA, it would be lovely to meet you – who knows you may fancy dressing up in Peter sometime in the future? News of our meetings will be communicated in the weekly newsletters and on our Facebook page: St Peters Primary School Hixon PTFA
Or you can email us at: st.petersptfa.hixon@gmail.com