Spiritual Development
At St. Peter's we nurture and grow each other as individuals, encouraging all to stretch themselves spiritually, morally, intellectually, emotionally, socially and physically in order to achieve more than they dreamed possible.
Through our intentionally planned spiritual adventures which take place throughout the school year, we open doors for our learners and the wider school community to encounter faith and spirituality in a variety of ways.
Here is just a snapshot of the different adventures we have experienced this year to date. Each of which have helped us to grow as individuals through our encounters with faith, helping us to live and grow as children of God.
Our school values underpin all of the work that we do and we welcome you to come and see for yourself our amazing adventures and share these experiences with our incredible learners.
Our Spiritual Adventures – School Blog
Stop the Drop! Class SS's Social Action Project
Class SS have investigated the problem of litter in our local area. After speaking with members of Hixon's Green and Clean team they were keen to help and completed a litter pick at the local park. But they wanted to go BIG! Each member of the class took a litter picker home for the weekend and roped in their families to help them clean up the streets where they live! A fantastic project which raises awareness of this important issue! Well Done Class SS!
Class TG join the fight against discrimination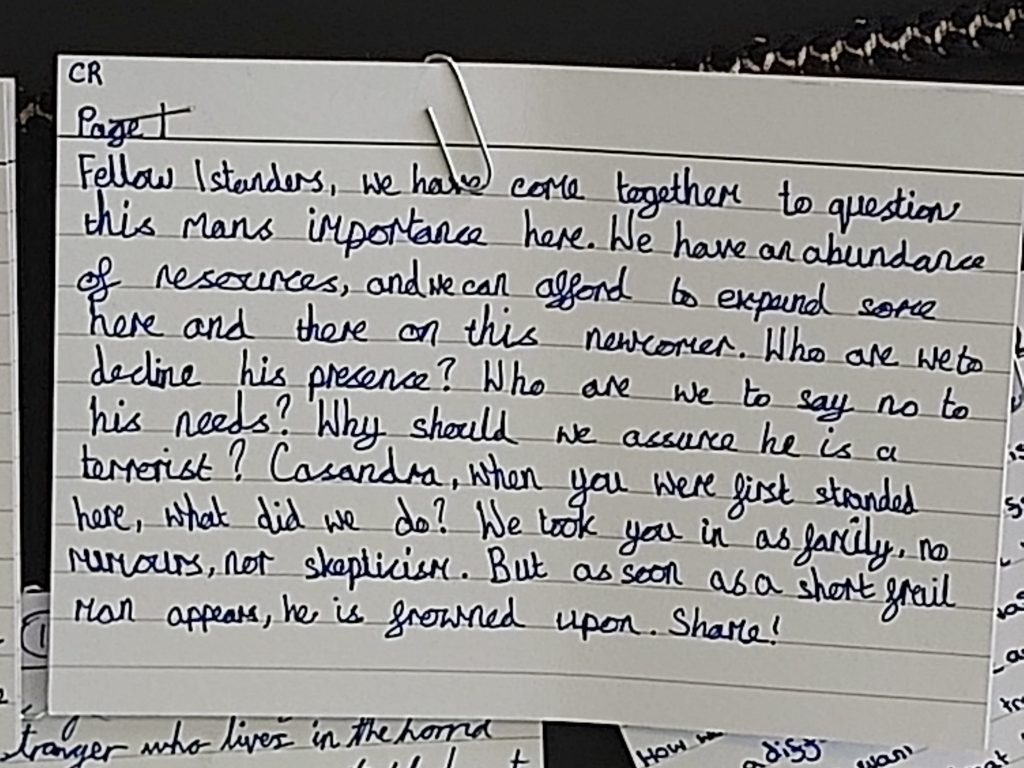 March 2021
After reading 'The Island' by Armin Greder, learners in Class TG were inspired to write impassioned speeches on behalf of the unknown man, standing up against the discrimination that he experienced when he was stranded on the island. Learners then engaged in discussions about how discrimination, like this, is experienced by 'outsiders' in our world today and how they can make.
---
'I am fearfully and wonderfully made' Psalm 139:14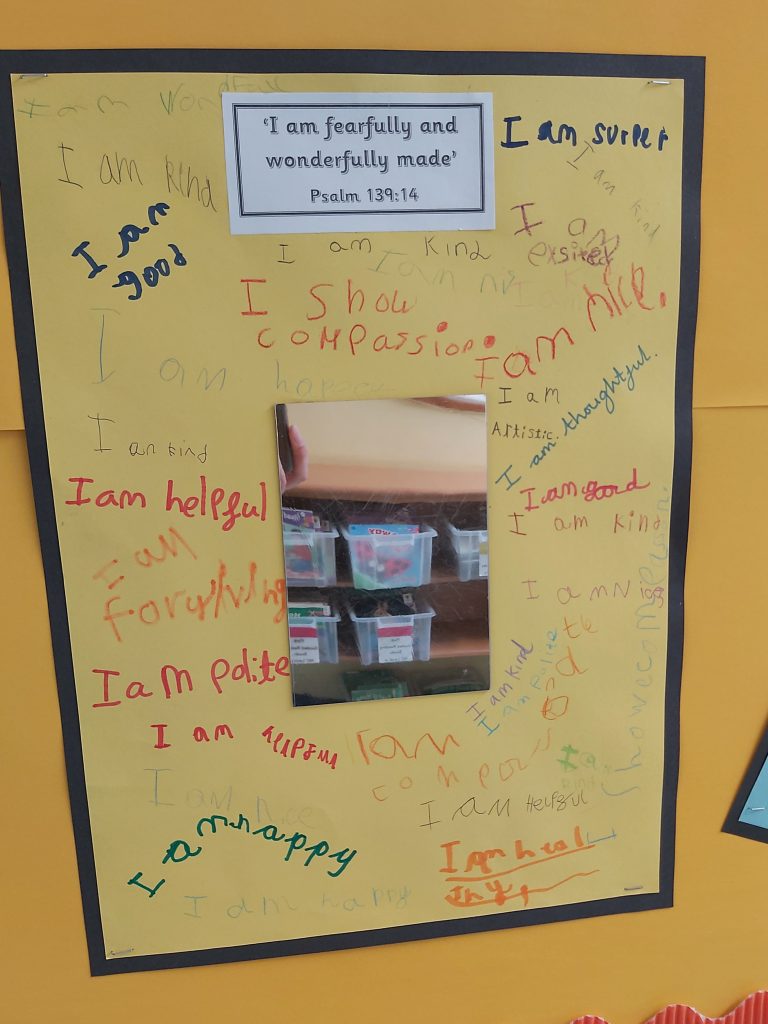 March 2021
This week our learning across the school focussed on Psalm 139:14 and through this we have celebrated what makes us special and unique as individuals as well as what makes others fearfully and wonderfully made. We have celebrated our differences and took time to experience and appreciate difference beyond our school community through creativity and stories.
---
Welcoming Back Our School Family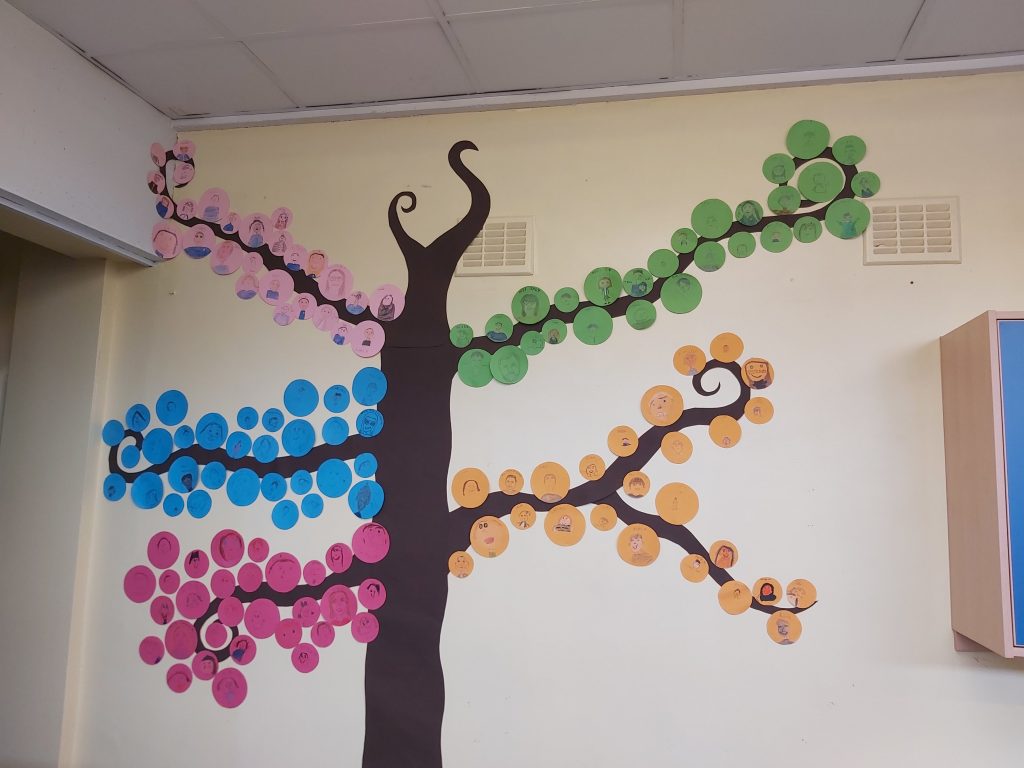 March 2021
To celebrate our return to school following Lockdown, we created our school family tree. This display serves to remind us that even when we had to stay apart we are still a family.
---
Focusing on Service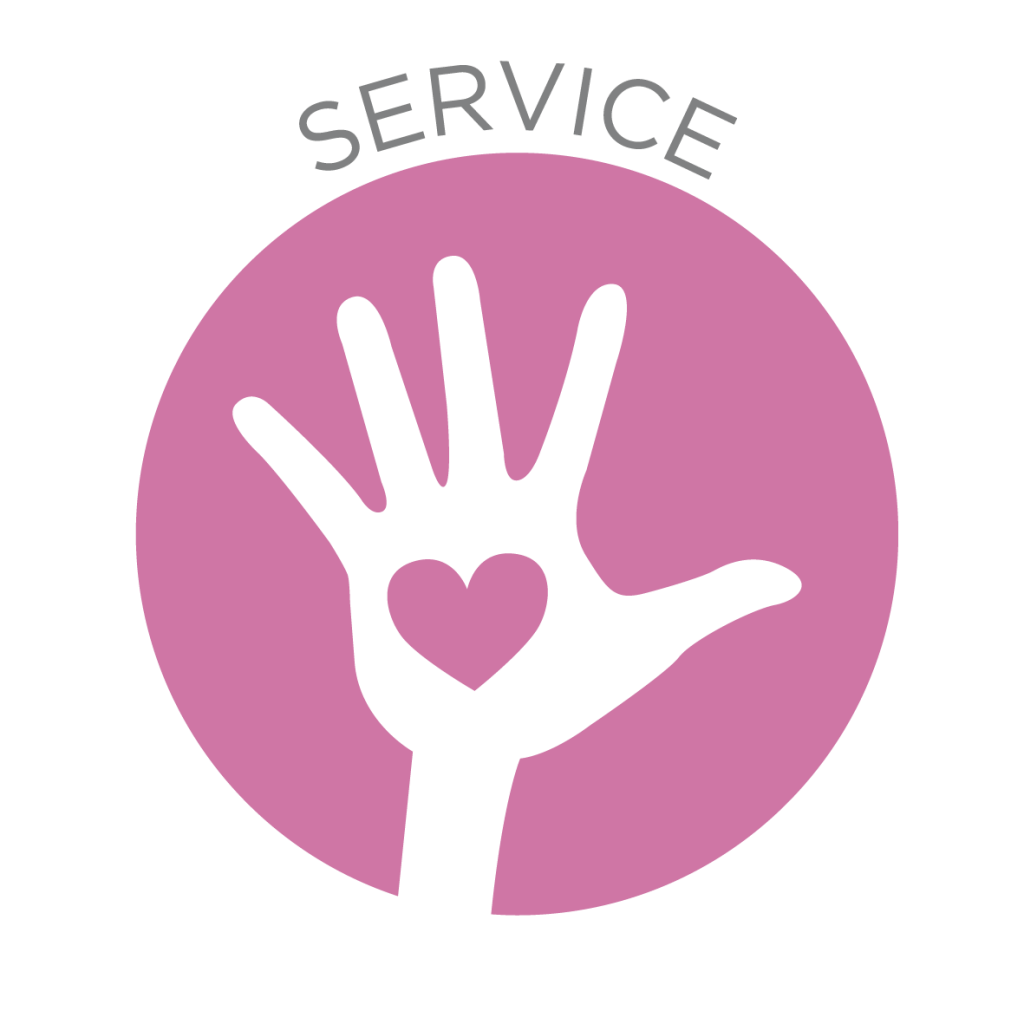 March 2021
During March in our worship we are exploring the value of Service. Together we have read the story of Jesus' anointing (John 12:1-8).
You can explore this value at home by using our worship at home activities.
---
Children's Mental Health Week
February 2021
Despite being in lockdown we celebrated Children's Mental Health week by joining together for a special worship, creating a whole-school happiness playlist and dressing to express! Through our work this week we celebrated the differences in our school community and embraced what made us special and unique as individuals.
---
Focusing on Respect
February 2021
During February we will be exploring the Christian value of respect through our virtual worships, both at home and in the classroom. This week we explored 1 Corinthians 1 12:27 'Now you are the body of Christ and each one of you is part of it', recognising that each one of us has an important part to play in God's plan.
You can explore this value at home using the worship at home activities below.
---
Exploring Forgiveness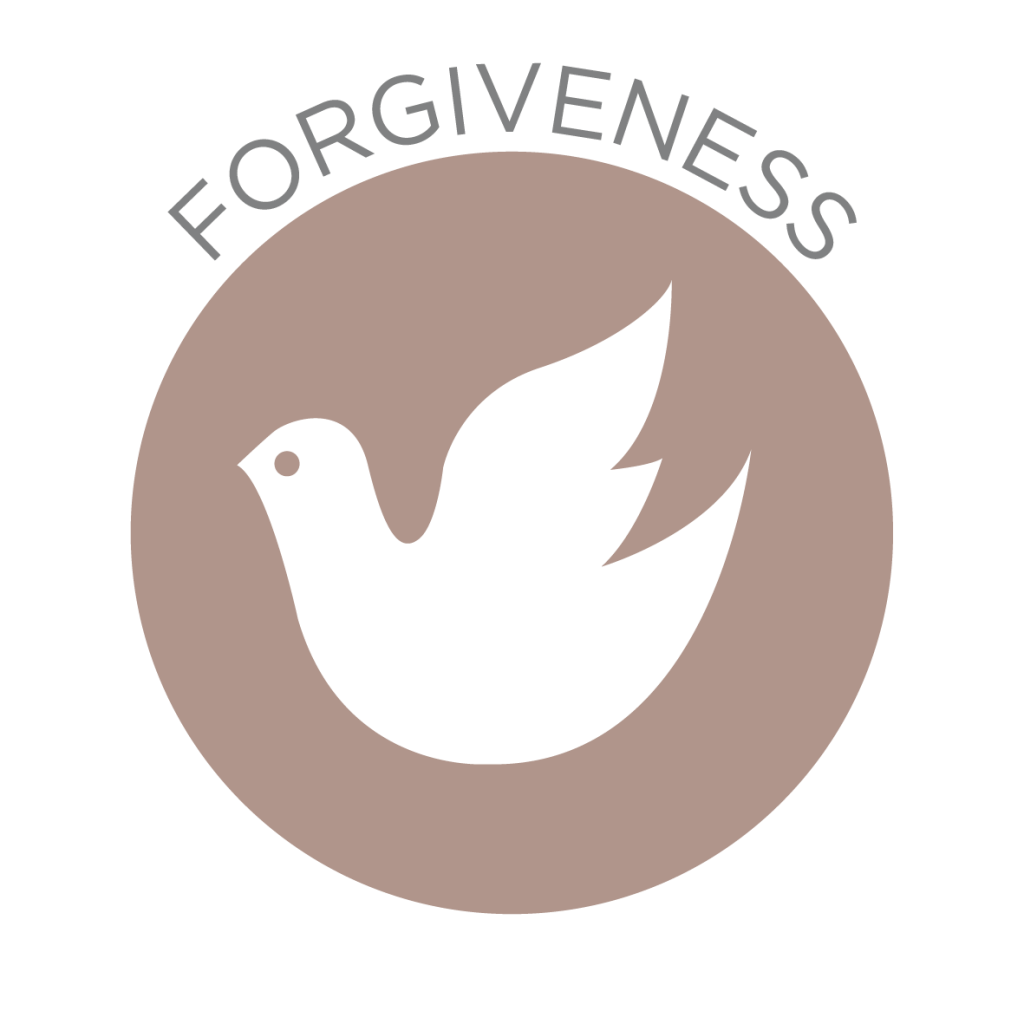 January 2021
In our worship during January we will be exploring the Christian value of Forgiveness. This week we began our explorations by looking at the parable of The Unforgiving Servant (Matthew 18:21-35) and what this teaches us about forgiveness.
If you would like to join us in worship at home, you can find our home-worship sheet about forgiveness below.
---
Opening a door to the new year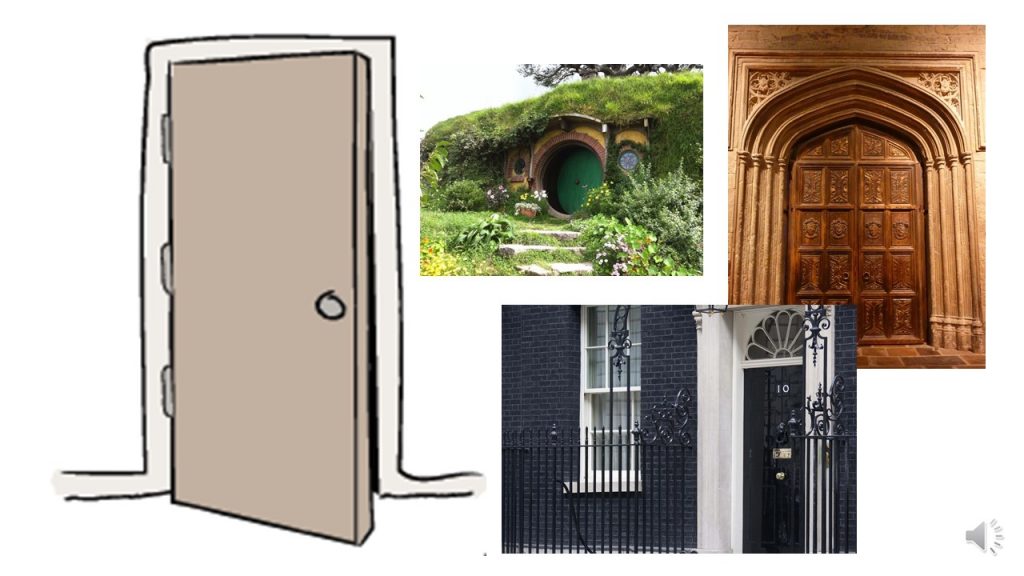 January 2021
In our first whole-school worship of 2021 we learned about Janus the Roman God of doors and doorways. We explored how a new year is like a new doorway and we don't yet know what adventures lie behind it. We discussed how opening these doors can be both exciting and scary and that we need to have courage to make the most of every opportunity we are given.
---
Look for a Light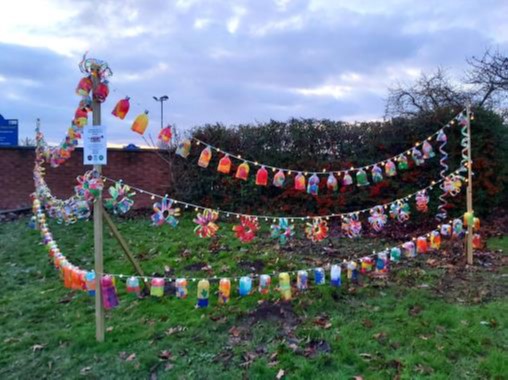 December 2021
We supported the Hixon Community Association's Look for a Light project in December 2021 to spread hope in dark times.
Every person in our school created a stunning lantern to include in our community display and learners lit up their own lanterns at home throughout December.
---
Class TG Community Action Project – Understanding Homelessness
November 2020